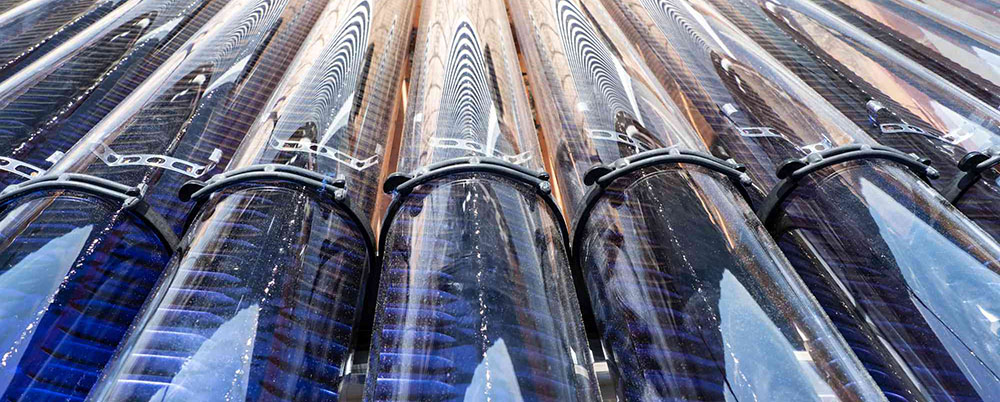 Benefits – why should I go solar?
Harness the power of the sun to save money and our environment
Reduce your hot water power bill by up to 70%
Huge government rebates in most areas
Reduce your Carbon Footprint by up to 3 tonnes per year
The equivalent of planting 200 trees or taking a small car off the road each year
How it works
Glass evacuated tubes are the key component of the evacuated tube heat pipe solar collectors. Each evacuated tube consists of two glass tubes. The outer tube is made of extremely strong transparent borosilicate glass that is able to resist impact from hail up to 25mm in diameter. The inner tube is also made of borosilicate glass, but coated with a special selective coating which features excellent solar heat absorption and minimal heat reflection properties. The air is withdrawn (evacuated) from the space between the two glass tubes to form a vacuum, which eliminates conductive and convective heat loss.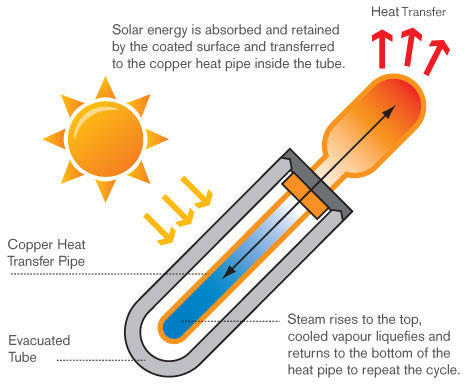 Inside the glass evacuated tube described above a copper heat pipe is installed. The copper heat pipe transmits heat to its tip which is plugged into the collector's heat transfer manifold.
As water runs through the manifold heat is transferred from the copper heat pipe to the water as shown in the diagram (right). The heat transfer manifold is housed in highly insulated aluminum housing.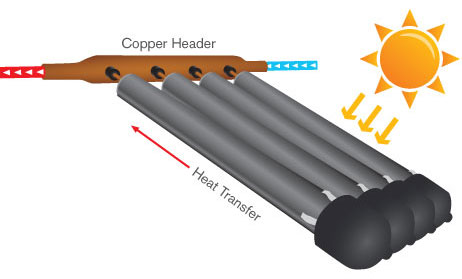 This method of heat transfer is a thousand times more efficient than a solid copper rod. Heat is therefore very efficiently transferred from the glass evacuated tube to the water. Since no water is flowing through the collector tubes and the tubes are hermetically sealed it does not suffer from corrosion problems, as is the case with other types of solar collectors.
Unlike other types of solar collectors, evacuated solar collectors still provide excellent results on cloudy days. This is because the tubes are able to absorb the energy from infrared rays which can pass through clouds. Wind and low temperatures also have a minimal effect on the function of evacuated tubes when compared to flat plate solar collectors. This is due to the insulating properties of the vacuum in each tube.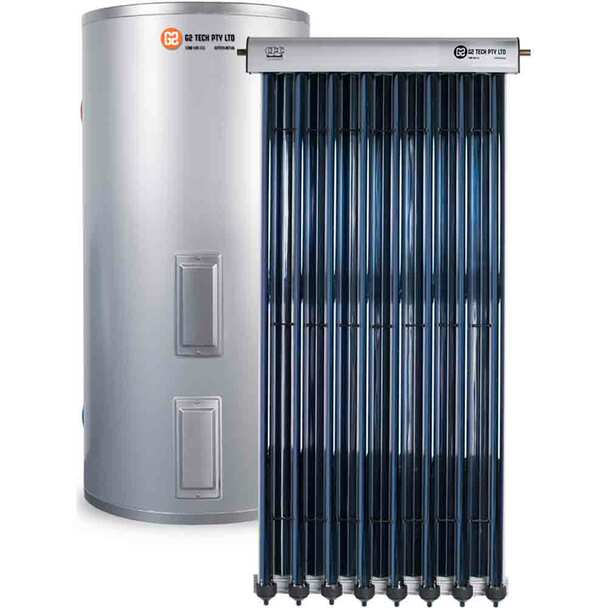 Here are the specs on the 250Lt.

Evacuated Tube Solar Hot Water | Stainless Steel Electric | 250Lt 10 Tube
When top quality and top performance is all that matters G2 TECH have delivered! G2 TECH brings their commercial quality to the home.
With a Duplex stainless steel tank and reflector backed evacuated tubes, stainless steel pump station complete with Senztek controller, Grundfos circulator pump and comprehensive install kit, you have purchased an "install and walk away" solar hot water system backed with a 20YR Tank, 15YR Collector warranty and G2 TECH's system design experience built in.
As a G2 TECH customer, you invest in a fit for purpose solar thermal solution to deliver proven cost savings, as such we only use the highest performing solar thermal technology backed by long warranties. The G2 TECH 360-Solar range is a robust commercial reflector backed evacuated tube providing up to 360-degree passive tracking.  Our commercial rated evacuated tube collectors are specifically designed and manufactured to meet the rigorous demands of the commercial hot water environment, domestic supply is a given. The system is a straightforward split system, your stainless steel tank is ground mounted and the collector is located on the roof, the pump station is the heart of the system pumping the solar heated water into the storage tank.
Why use a Reflector Collector?
The 360-Solar range does not only have a superior performance compared to standard solar collectors based on equivalent aperture area, the reflector ensures quicker thermal performance even in overcast light. G2 TECH's reflector "R-Series" evacuated heat pipe solar collectors offers the following features and benefits;
Features & Benefits:
Provide up to 360-degree passive tracking
Premium grade, highly polished, self-cleaning reflective aluminium reflector
Simple "Click n Connect" assembly
Increased collector kW output
Quicker install as fewer tubes required
Reduced Service Downtime
15 Year Warranty
Stainless Steel Tank Construction
Typical electric, gas or solar storage tanks have traditionally been manufactured with enamelled carbon steel and lower grade stainless steels (304 or 316) or austenitic stainless steels. The G2D Range "Domestic" follows in the footsteps of G2TECH's acclaimed commercial range of water tanks. Using Duplex Stainless Steel for our solar ready domestic water heaters they inherit the commercially proven superior strength and corrosion resistance which does not require any coating.
The G2D's contemporary looks will add value to your home and are backed up with G2 TECH's commercial expertise in tank design, complete with blown polyurethane insulation coupled with a sleek robust, 304 brushed stainless steel casing suitable for Australia's harsh conditions. G2D's are supplied as standard with an Incoloy electric element with exceptional resistance to many aggressive corrosion environments. Stainless steel temperature sensor ports with gland nut capture ensure correct readings from your solar controller.
What do you Get?
1 x G2D-250SSE Duplex Stainless Steel Solar Ready Hot Water Tank
1 x 250LT Height - 1470mm Diameter - 600mm
1 x 3.6kW Incoloy Electric Element OR G2 can offer P.V Battery Friendly options from 800watts
1 x 15mm 850kPa Pressure & Temperature Relief Valve
1 x SHC - 10 Tube Array
1 x Manifold
1 x Box of Evacuated Tubes x 10
1 x Standard Roof Mount Kit
1 x Stainless Steel Pump Station with Senztek Controller, Grundfos 15-20 Cil Pump
1 x Comprehensive Install AVG valve kit