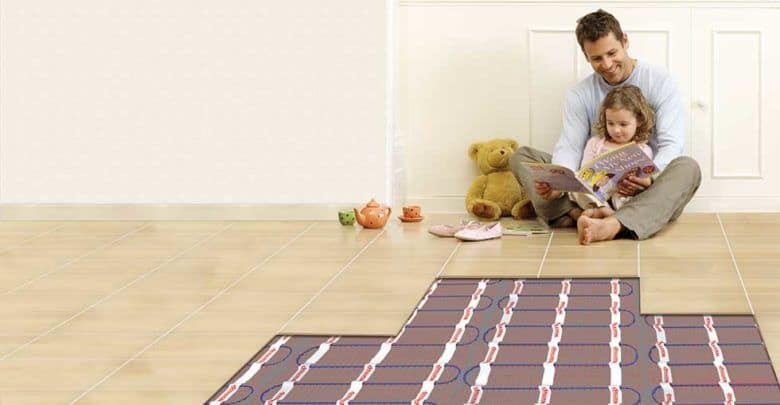 How it works
Hydronic under floor heating is the most economical and unobtrusive way to heat your home. The system uses lower water temperatures than panel radiators which reduces the running costs.
In hydronic under floor heating, a boiler is used to heat the water that is then circulated through pipe work laid under the floor providing even heat distribution for maximum comfort. Heat is transferred directly from the floors surface to the room air. Under floor heating is most effective when laid in insulation underlay, known as 'dimple boards'. The most appropriate floor coverings used with under floor heating are concrete and tiles, but carpet can also be used.
The use of a central thermostat helps you control your hydronic heating system at set times and to the desired temperature. Under floor heating can also be zoned through the manifold allowing for independent temperature control to individual rooms resulting in energy efficiency.
Hydronic under floor heating can also be combined with panel radiators and convectors, providing you with a solution that is functional, innovative and energy efficient.
A hydronic system consists of four components:
The boiler heats water to a thermostatically-controlled temperature. Boilers use natural gas, LPG, off-peak electricity or solid fuel.
The pipe work, known as Rehau, carries the heated water from the boiler through the pipe work laid under the floor, and back again for re-heating.
A pump circulates the water through the pipe work.
Heat is transferred from the floors surface to the room.
Rehau Pipe
Traditionally, hydronic heating systems were constructed using copper pipe work but with the rising cost of copper and as new technologies have developed, the majority of systems are now installed using an approved polyethylene pipe, known as Rehau. Rehau is also insulated adding to the efficiency of the hydronic heating system by reducing heat loss.
Rehau Benefits
Fast installation
Corrosion and maintenance free
Resistant to many chemicals
Durability
Higher Performance
Fast installation
Environmentally friendly
Manifold
The hydronic heating manifold is comprised of individual 'blocks' which can easily be assembled to the required number of heating circuit's dependant on your required heating zones. The manifold disperses the water direct from the heat source (i.e. boiler) to each individual circuit.